Letter From The Principal
Dear students,
Dear parents,
Dear colleagues,
Dear members of the management board,
Dear employees of the German School Hurghada,
Please allow me to introduce myself. My name is Siglinde Hailer and I am excited to say that from September 1st, I am appointed as the new principal of the excellent Deutsche Schule Hurghada / Red Sea.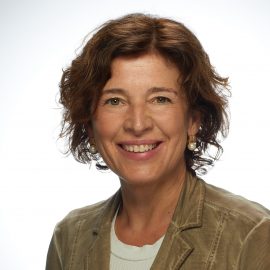 I was born and raised in the South of Germany. My own school days have been formative in my wish to become a teacher, as I had dedicated teachers, they had opened new horizons for my future. As I am mother of three adult children, I am familiar with the perspective of a parent.
I have been working in different schools in Baden Württemberg, Germany and have been fortunate to also have lived and worked abroad. From 2007 until 2014, I moved with my family to Namibia to work as a teacher at the German School in Windhoek. These years enriched me and have had a great impact on me – both professionally and personally. After this, I was trained in quality management and worked as an evaluator for schools on behalf of the ministry of education in Baden-Württemberg/Germany. Thereafter, I have been the principal of a big secondary school in the South of Germany.
I was able to travel to Egypt with my family in the past. We underwent several tours through Egypt and we were astonished by its beauty and very impressed about the historic monuments and the kindness of the people. Therefore, I am very excited to start working on the African continent a second time.
Since the beginning of 2020, the world has been faced with new challenges. The entire school community is affected by this as well. You all have mastered these trying times brilliantly and with much optimism, this fills me with happiness.
In 2019, Deutsche Schule Hurghada underwent the audit of Bund-Länder-Inspektion (BLI) with excellent results regarding the quality of the whole school. These high standards point the way for the future trend.
At the heart of the school are always their students. It is the aim to cater to their specific needs and to ensure the development of their competencies within an inviting and inclusive atmosphere.
German international schools are a platform for international encounters and exchange. This provides an outstanding supportive learning environment and a place, where lifelong friendships and international relations form. It is my wish to ensure academic excellence and, equally important, to uphold and practice social values such as tolerance, respect and individual responsibility. Only together, we can succeed in life. Explorative learning, knowledge transfer and our encouragement will benefit the students in reaching their full potential. Graduating from the Deutsche Schule Hurghada Red Sea will open up many opportunities and enable the students to start vocational training or to study in numerous fields at home and also abroad.
Together we are able to promote and foster talent, create opportunities for students, and to learn and start exciting projects. An African proverb that proves true repeatedly:  "It takes a village to raise a child"  guides my approach.
It is an interesting and challenging job to work as a principal for an international school. So I am looking forward to working together with the Head of the board, Mrs. Maja Koehl and Vice-principal Mr. Eckart Streb, Head of administration Mrs. Daniela Ismail, as well as with all the students, parents, colleagues, the management board, the employees and the whole school-community. Together we will ensure and maintain the high standard of learning and mutual support that the Deutsche Schule Hurghada has.
Thank you for your trust, I hope that we soon have the opportunity to meet personally.
Narakom qariban.
Sincerely,
Siglinde Hailer / July 2020